This is a carousel. Use Next and Previous buttons to navigate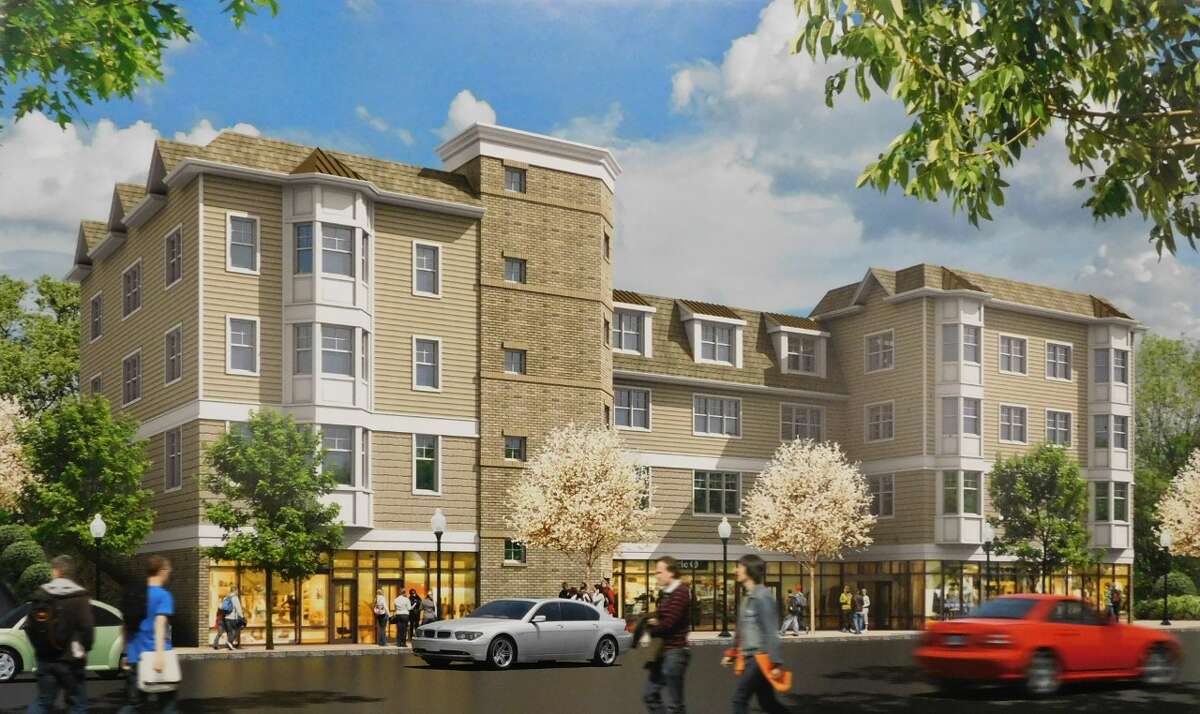 The developer planning a mixed-use project at the former Carroll's Home Improvement Store site said he's eager to help boost downtown Shelton's economic momentum.
"Let's see what we can do to keep things going," Don Stanziale, Jr., told the Planning & Zoning Commission at its April 24 meeting.
Stanziale, a longtime Shelton resident, said he's a third-generation builder who used to purchase lumber from Carroll's, and that's why he plans to use the store's name for the proposal.
Cedar Village at Carroll's would involve two buildings with 63 apartments and "8,000 square feet of ground-floor retail space on 0.95 acres. Four small parcels would be combined and two older homes demolished to create the development site, which borders Howe Avenue, Hill Street and Coram Avenue.
The applicant is seeking to create a Planned Development District for the project. All apartments would all be one-bedroom or studio units.
Much of the Carroll's building along Howe Avenue would remain as part of the project's first phase, with an addition built toward Hill Street. Three new stories containing 33 apartments would be built on top.
All the retail space would be on Howe Avenue, with the first floor also having an office and fitness room. The building would be about 50 feet tall and have entrances on Howe Avenue and in the rear, near a new parking lot.
For the second phase, a new five-story building with 30 apartments would be built close to Coram Avenue and Hill Street. This building would have two interior parking levels and be up to 60 feet tall, although it would appear to be three stories high from Coram Avenue due to the substantial grade change from Howe to Coram.
Some residents on Coram and Prospect avenues, near City Hall, asked the developer to create renderings of what the project would look like from their neighborhood. The Coram Avenue side would have a pedestrian entrance at street level.
A total of 69 garage and surface parking spaces would be provided, plus another six outdoor tandem spots in a parking lot. Only one parking space per living unit is required downtown, so the project would have slightly more than that.
Developer engineer James Swift said ample public parking is available on the street and in nearby public lots.
A small pedestrian gathering place would be created along Howe Avenue in the middle of the project, and new sidewalks and landscaping added on all three surrounding streets.
"We're really going to clean up that street frontage," Swift said.
P&Z member Mark Widomski liked the design as seen from Howe Avenue. "I do like the architecture out front," he said. "It fits the downtown area."
Two driveway entrances would be on Hill Street, with concerns expressed about the steepness of that road, especially during winter weather. The developer's traffic engineer said sight lines could be an issue at one of the entrances.
"You're going up a pretty steep hill," P&Z member Tony Pogoda said.
Based on the traffic report, Swift said ideas to consider are making the Coram-Hill intersection a four-way stop and eliminating some on-street parking along Howe Avenue near Hill to improve pedestrian safety.
Retaining walls would be built along Hill Street and, as part of the new apartment building, on Coram Avenue.
When asked, developer representatives said no decision has been made on designating any units as affordable under state statute 8-30g, but they are willing to discuss the issue. They pointed out the apartments would be quite small and perhaps some could be set aside for government workers.
P&Z members and staff noted the city only gets credit toward the state's affordable housing threshold if the affordable units meet specific criteria, including having 40-year deed restrictions.
Submitted paperwork originally said the Carroll's proposal would have 69 apartments due to a calculation error, but it's actually 63 units.
River Road condos
The developer of a proposed 36-unit condo project on Route 110 slightly south of downtown has asked for an extension on the application. The 12.4-acre site is at 85-97 River Road, across from the Baingan Indian restaurant.
The public hearing on the proposal should now be continued on May 30. Neighbors have raised questions about ledge removal, visible impact, traffic, school enrollment and wildlife.