This is a carousel. Use Next and Previous buttons to navigate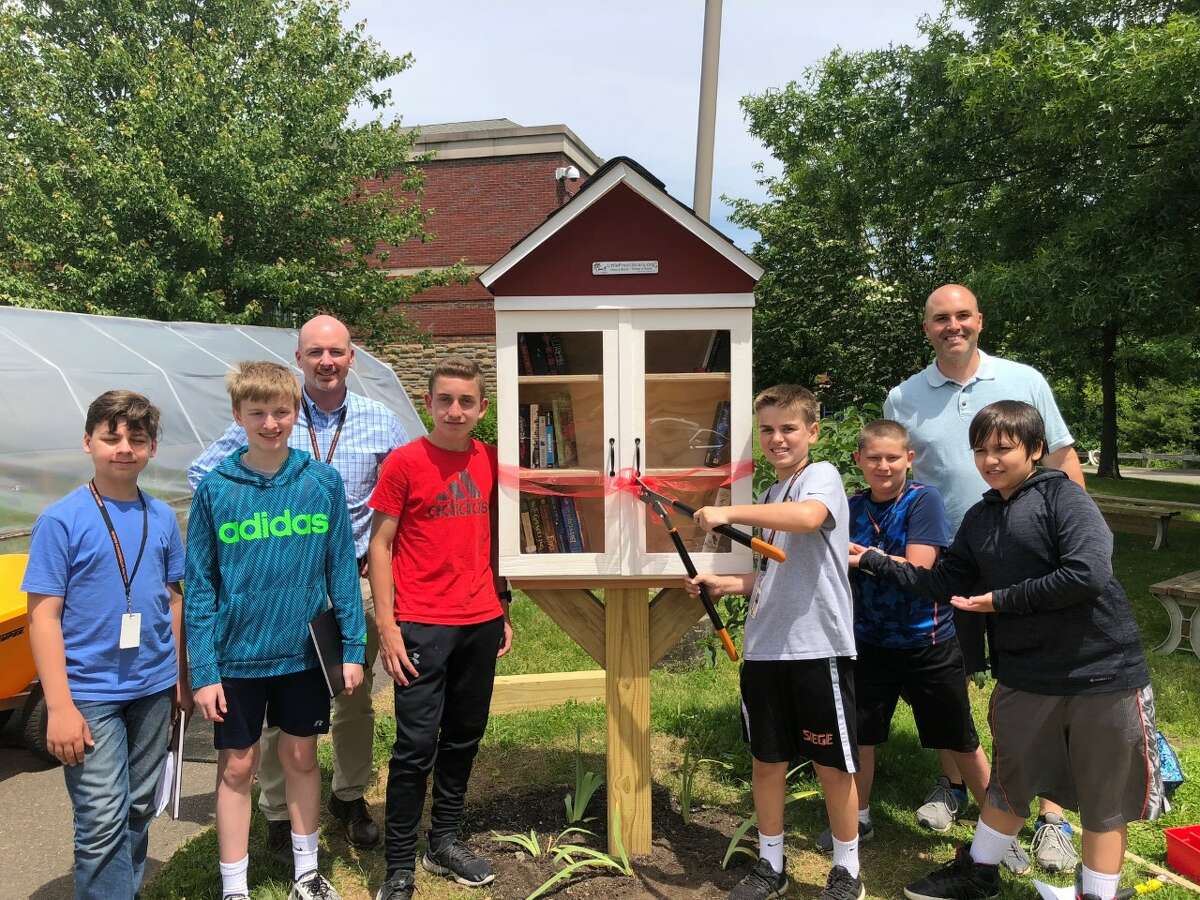 Those taking a stroll in the rear of the intermediate school can now grab a good book as well.
Shelton Intermediate School is now home to a Little Free Library, all thanks to a group of seventh graders — members of the school's Flex Club, under the guidance of teachers Eric Wolf and Rob Swercewski — who built and installed a small, barn-like bookcase in the school's community garden space.
"This is a great source of pride for these students," said Swercewski after the students put the tiny library in place Wednesday, June 12.
"These kids go through school, take tests, learning in the classroom," added Swercewski. "We can look at their growth academical"ly. We can measure that. We can see it on paper. But this is something physical that they can see and enjoy for years to come."
A Little Free Library is a "take a book, return a book" free book exchange, which can come in many shapes and sizes, but the most common version is a small wooden box of books.
Anyone may take a book or bring a book to share. Little Free Library book exchanges, such as the one created by the SIS students, have a unique, personal touch. Overall, there are more than 80,000 registered Little Free Library book-sharing boxes in 91 countries worldwide — and Shelton is the latest location.
Wolf said he began thinking of this two years ago, as he watched so many people walking along near the community garden. That idea led Wolf and library media specialist Ron Gydus and reading specialist Amy Corris to join in writing a grant request from the Shelton Education Fund Endowment. That $250 grant was approved earlier this school year.
Those funds went to purchasing materials for the creation of the small barn-like box with three shelves to hold the books — some of which were placed in Wednesday moments after the students finished drilling holes and securing the screws as the box was put in place.

"When the grant was approved, we thought, 'the Flex Club would be perfect for this project,'" said Wolf.
Wolf said the students researched all ideas — going through some 15 designs before finding the right fit — and mocked the entire project on poster board before beginning construction. Wolf said the students honed their craft by building bird houses before entering in on the book box.
"This location was perfect," said Wolf as he pointed out the nearby community garden, started by his students, as well as the numerous Eagle Scout projects in this section behind the school. "It really goes with the Eagle Scout projects done here and the school garden. It adds to the look."
Swercewski said the crew also used some extra items, like shingles, from his home to complete the project. Modern Plastics donated the plexiglass for the window on the doors of the library box.
"This is just another way to share our love of reading," said Corris. "It was also a nice collaboration between the specialists and classes to get this done. Hopefully, people will use it. It is truly a place for adults and kids to come and enjoy."
brian.gioiele@hearstmediact.com