This is a carousel. Use Next and Previous buttons to navigate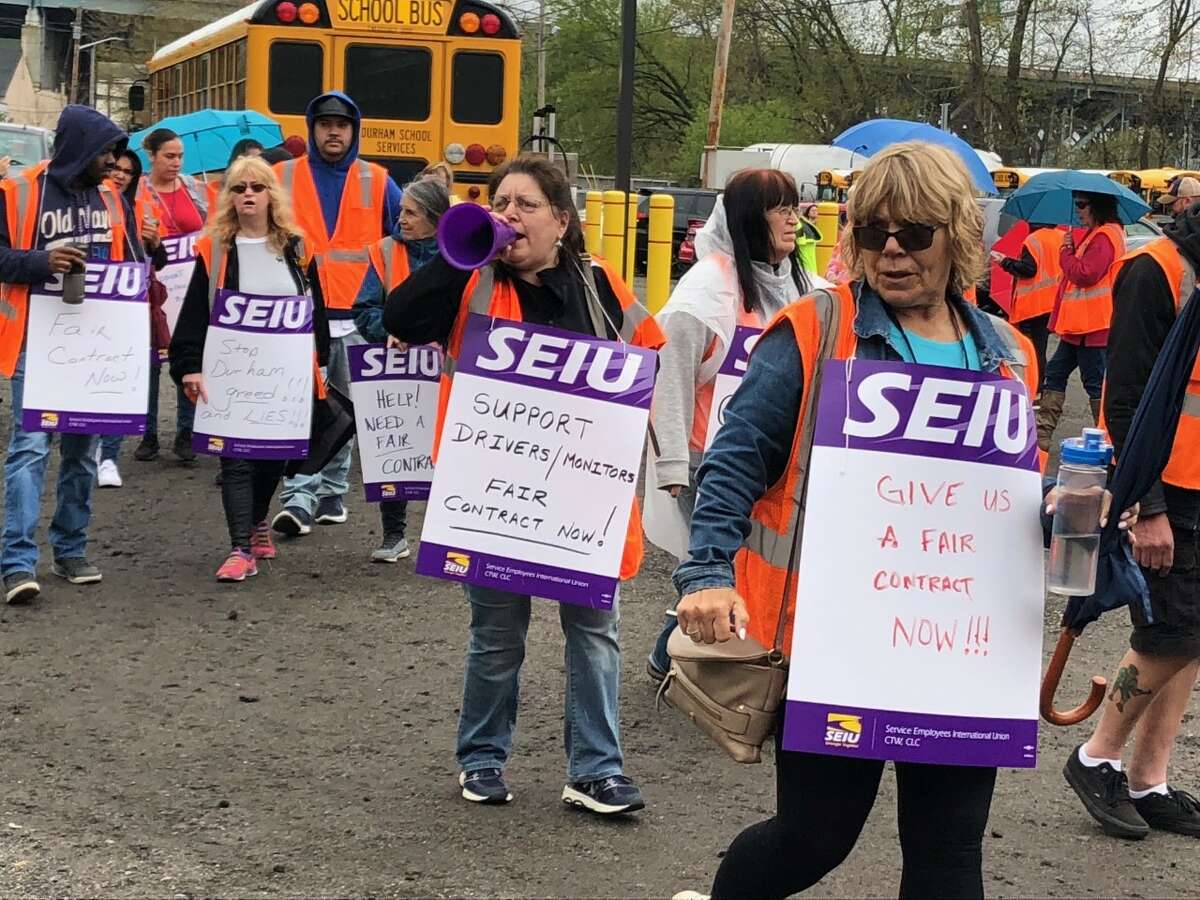 Shelton bus drivers and monitors have discussed walking out Tuesday, April 30, if no substantive negotiations are held between the union and employer, Durham School Services, by Monday.
That was the word Friday morning as dozens of bus drivers and monitors held an information picket at the bus maintenance garage on Riverdale Avenue. CSEA SEIU Local 2001, the union representing Shelton school bus drivers and monitors, voted to authorize a strike against its employer, Durham School Services, on Wednesday, April 24, but no formal walkout has yet been scheduled.
"This is a last resort," said driver Peter Miani, as his fellow workers marched in the bus garage lot chanting slogans demanding a fair contract. "We've tried just about everything, and it is not working.
"We are considering that if (Durham) does not come to the table on Monday, we're going to strike Tuesday," added Miani. "A one-day strike and see where it goes. Hopefully that is enough to let them know we are serious."
CSEA SEIU Local 2001 Communications Director Ben Phillips would not confirm a potential Tuesday walkout, saying only that such a walkout has been discussed but no final date has been scheduled.
"Right now we still want to be in negotiations," said Phillips. "We do not want to strike. It is an option, and that is why we took the strike vote to show that we are serious about this if negotiations do not take place. Hopefully when (Durham) sees how many drivers are out here today, it moves them. They will see that these folks will not sit there and accept a bad contract."
Phillips said drivers and monitors in Shelton have been working without a contract since July 2018, when Durham began providing school transportation services in the city and refused to honor the collective bargaining agreement that was in place and had included wage increases.
In a post on Facebook, the union listed several items Durham wants to remove from the union contract, including retroactive raises, personal days, unpaid extended leave, payment for "student endorsement" renewal, mileage reimbursement for drug test and medical exams, and payment for travel and testing time of drug tests and medical exams. Employees would also be forced to work the day before and after to receive holiday pay.