This is a carousel. Use Next and Previous buttons to navigate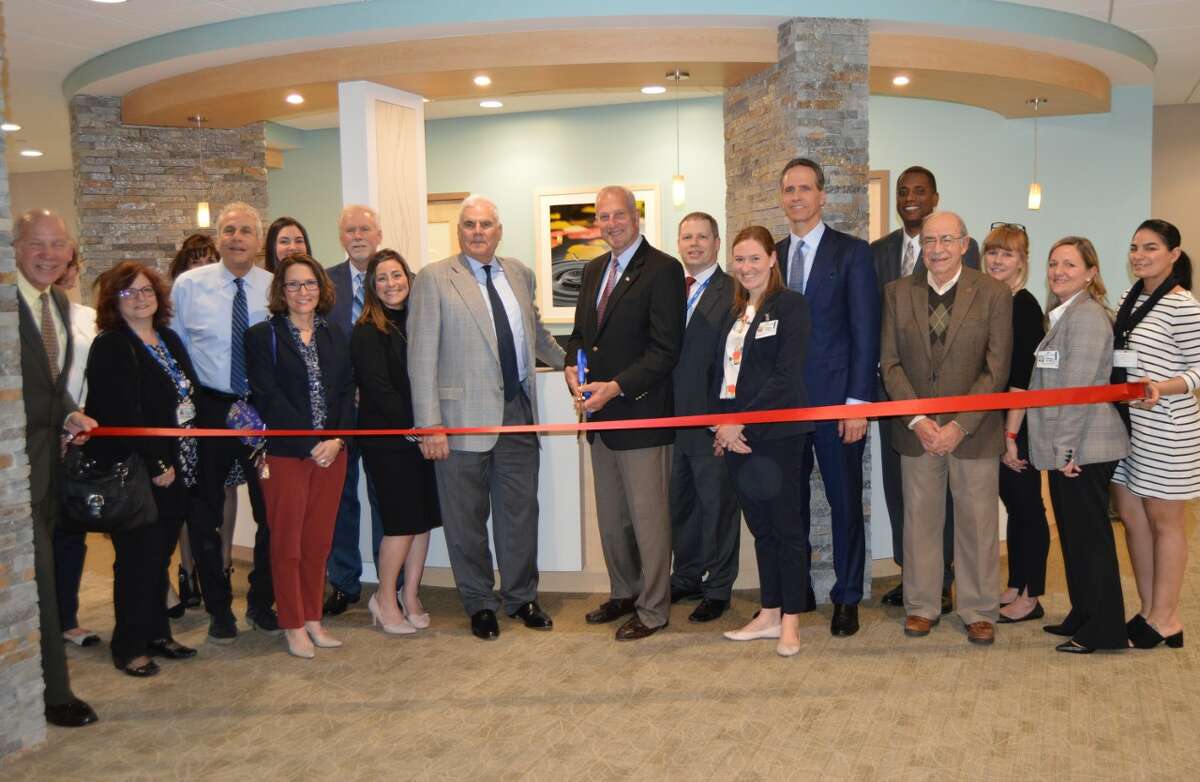 Griffin Faculty Physicians recently opened its new Family Health Center at 110 Commerce Drive in Shelton — ushering in the next generation of primary care, according to center representatives.
Griffin Hospital President and CEO Patrick Charmel was joined by state and local government officials and representatives from the Greater Valley Chamber of Commerce in cutting the ribbon on the new 13,000 square-foot primary care office on Tuesday, April 23.
Shelton Mayor Mark Lauretti complimented Charmel on the highly-visible location along Bridgeport Avenue and on the beautiful interior design of the office.
"Griffin has been an asset to Shelton and the state," said Lauretti, "and we know that you are going to make great things happen here."
The office sets a new standard in person-centered primary care, featuring 24 exam rooms with a unique design and the latest technology that promotes person-to-person interaction between patient and provider for improved consultation and preventative health education. The spacious office has a relaxing, spa-like design that will be home to nine primary care providers and offers patients a multitude of care services at a single location, including:
• On-site X-ray and lab services
• A patient resource and education center
• Integrated care with genetic testing, remote health monitoring, diabetes education, behavioral health support, geriatric assessments, and future access to visiting Griffin Faculty Physicians gastroenterology, endocrine and cardiology specialists
Patients will also have ease of access with online scheduling and check-in, and extended office hours, including weekend availability.
"Griffin Faculty Physicians and Griffin Hospital are helping to transform the state's healthcare landscape and defining the high-performing health system of the future," said Adam Dworkin, JD MBA, executive director of Griffin Faculty Physicians.
"This new primary care office, along with the one we plan to open at Quarry Walk in Oxford in June, will serve as flagships for Griffin's population health initiatives," added Dworkin. "The innovative design of this office will enable us to provide better care for our community with a focus on preventative health and chronic disease management. All of this is aimed at keeping people healthy and out of the hospital."
Griffin Faculty Physicians, a subsidiary of Griffin Hospital, is a multi-specialty physician group providing patient-centered, personalized care at locations throughout the area. Specialties include primary care, cardiology, endocrinology, pulmonology, gastroenterology, geriatrics, general and breast surgery, card-thoracic surgery, urology and obstetrics & gynecology.
For more information, visit griffinfacultyphysicians.org