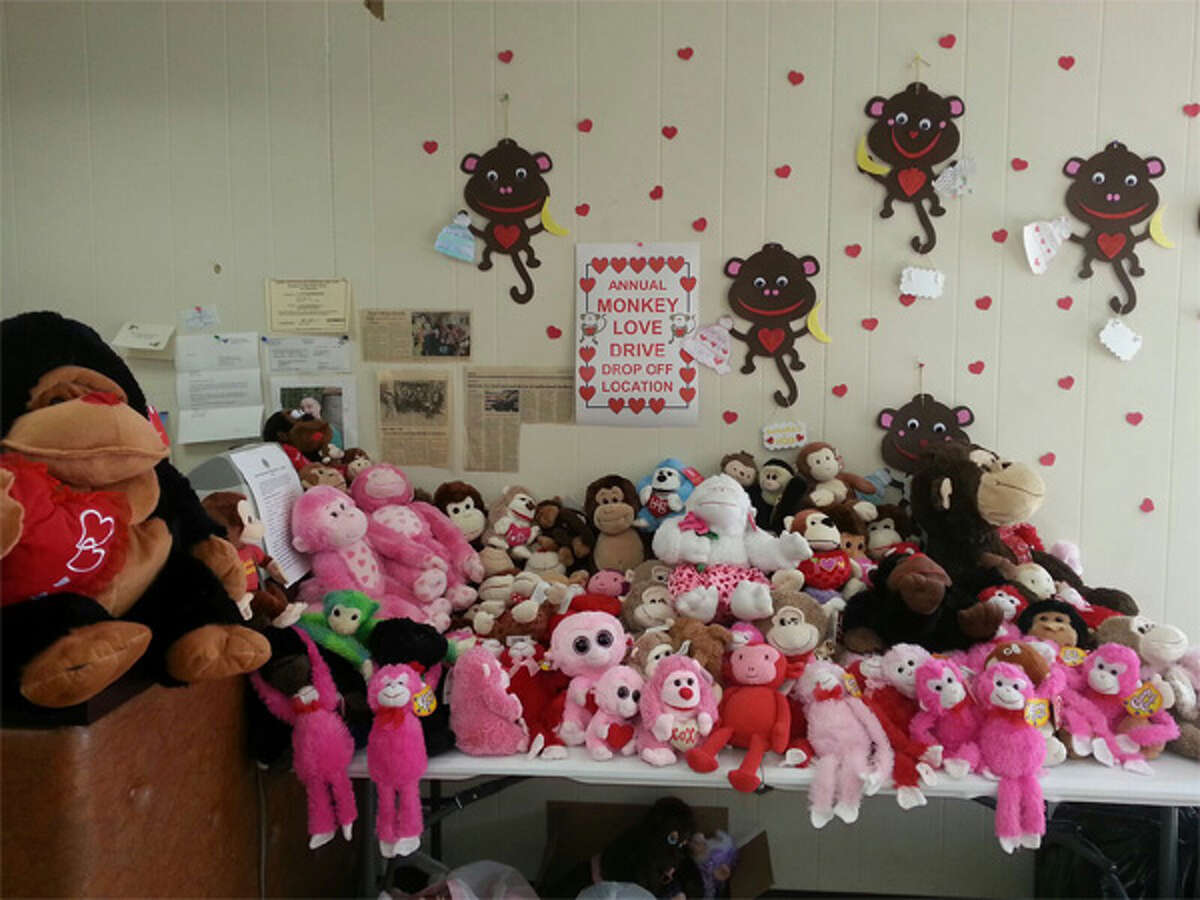 The annual Monkey Love Valentine's Day drive collected 1,500 stuffed monkeys from those in the area.
"Especially with the way our economy has been lately," said Sneider. "I didn't expect to collect so many monkeys." Jennifer Sneider, owner of J-Cuts in Shelton said she was amazed at the outpouring of kindness from the community.
Ruth Rogers, owner of Topside Cafe in Milford, along with Mary Finnegan and Lenny Marconi, held their annual Monkey Love Sunday on Jan. 27. They collected about 50 stuffed monkeys this year. They will be holding a Monkey Love Sunday celebration each year on the Sunday before Superbowl. They hope to have other area pubs in Milford and Shelton join in for this annual event to benefit children in need.Additional collection locations included Huntington Family Dental Group, the Greater Valley Chamber of Commerce, the Shelton Lion's Club, Minuteman Press and Haynes Group, Inc.
This annual community event benefits abused and neglected children, impoverished, adopted and sick children, and frightened children involved in police calls, as well as children who may feel a little left out when a younger sibling is born and children treated for cancer or other illnesses at local hospitals.
This year's drive benefits children serviced by the Ansonia, Milford and Lower Naugatuck Valley boys and girls clubs, Yale-New Haven Children's Hospital in New Haven, Yale-New Haven Children's Hospital at Bridgeport Hospital Campus, TEAM, Inc. in Derby and Ansonia, BHcare's Center for Domestic Violence Services in Ansonia, the Seymour Police Department, Griffin Hospital of Derby and Sunnyside School in Shelton.
Although a representative of the children who attended Sandy Hook Elementary School said they could not accept donations because they still have a warehouse full, an extra 100 stuffed monkeys were given to Yale-New Haven Children's Hospital in honor of the children and 26 monkeys were wrapped and given out with a Valentine card as a surprise to various children in the Newtown area.
"This is my third year doing it," said Sneider. "We have so much fun. My customers get involved and my teenage daughter and her friends join in to help by decorating the barber shop in anticipation of a whole bunch of monkeys moving in for a little while," said Sneider. "It is an amazing feeling to know each and every one of these monkeys will find comfort in the arms of a child in need and the children will find comfort in these monkeys."
For information on participating in next year's drive, call J-Cuts at 203-924-4107.