This is a carousel. Use Next and Previous buttons to navigate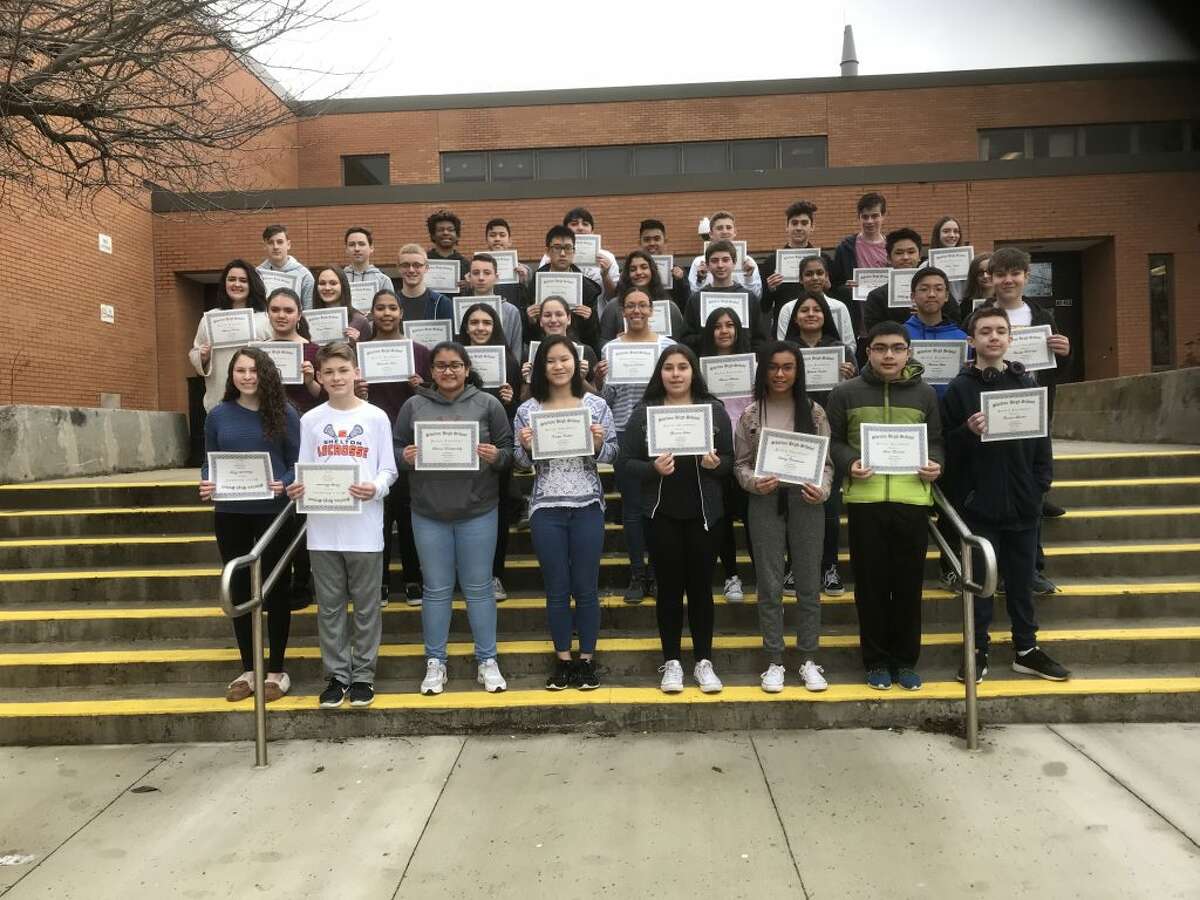 Shelton High School recognized those students who had perfect attendance for quarter 2. Shelton High School's perfect attendance policy mandates that a student is present in school and in every class every day, which includes being on time to school and every class every day (no tardies) and in school for a complete day (no early dismissals). The following students were presented with certificates by the high school administration on Feb. 26, 2018:
Freshman: Brandon Acervida, Ryan Bailey, Korey Barber, Juan Miguel Barranco, Sierra Boccuzzi, Reilly Brennan, Emma Buglione, Bianca Bulatao, Hailey Cardenales, Caidyn Collins, Michelle Cuellar, Shivani Darapureddy, Keyanah DePina, Brooke Doolan, Amber Haray , Alexis Jagodnik, Jessica Jayakar, Neha Jayanna, Josiah Kellogg, Ashley Kichar, Andrew Lam, Andrew Libby, Connor Linden, Michael Mourtadh, Alexandra Pena, Samantha Rago, Alexa Reis, Carson Rhodes, Melaina Roberto, Kevin Rudzinski, Reino Martin Sawan, Virginia Sebas, Giovana Silva, Brendan Smith, Angelina Spray, Heather Spray, Kyle St. Pierre, Yoomin Sung, Louis Tavernia III, Joseph Viglione III, Joseph Viglione III, Timothy Weinmayr, Zachary Wirth, Ryan Woods Jr., Devin Zak; Sophomores: Mark Ayora, Christopher Belden, Tej Bidja, Michael Brown, Elizabeth Casinelli, Tori Charbonneau, Samantha Chase, Robert Ciccone, Anthony Cortigiano, Matthew Cristiano, Brian Dahdal, Allison Dapp, Katelyn Davis, Mtanious Dib, Chase Fida, Haley Foothorap, Mackenzie Gillen, Michael Giovannini, Destiny Haray, Kayla Holman, Katie Hunter, Anoushka Jayasuriya, Filipe Jorge, TeaWon Kim, Aislynn Kostandini, Jeff Lim, JinXia Lin, JunWen Lin, Jessica Lopes, David Mantack, Magdalena Martins, Jenna Melanson, Brian Modica, Joseph Morgan, Anni Motsikulashvili, Christopher Nelson, Ryan Nettle, Alexandra O'Donnell, Martina Pastore, Michael Rodia, Adam Rossetti, Louis Sacoto, Sean Sampaio, Michael Ray Sawan, Katherine Tapia, Gladiola Teodori, Leya Vohra, Cora Welsh; Juniors: Kade Bendici, Amari Bernier, Grace Boles, Megan Boretsky, Rajan Caccam, Matthew Cho, Maria Curran, Taylor Darcangelo, Mairy Dib, Robert Dillon, Alexander Donfrancesco, Reyna Ferrarese, John Christiane Ilano, Dylan Johnson, Jason Juncker, Alexandra Kenealy , Samuel Kocurek, Martin Kovachev, Adam Krzywosz, Amanda LoMonte, Eric Lopes, Beyonce Lopez, Julia Meyer, Julia O'Neill, Dhir Patel, Nicolina Perelli, Jessica Perley, Anthony Russo, Kayla RussoH, Brian Sanfilippo, Nardin Sayoufi, Molly Scalenghe, Gianna Sia, Joshua Sibley-Prusak, Julia Silva, Justine Tadduni, John Trujillo, Noah Vargoshe, Fan Zhang; Seniors: Derek Cerulli, Carly Champagne, William Ciccone, Cjei Alen Co, Michael Davis, Khaleed Dawkins, Marisa DeCiucis, Carl Dioguardi, Audrey Falsetti, Sarah Falsetti, Zoe Figueroa, Nicholas Fine, Veronica Hunter, TeaYoung Kim, Kayla Krijgsman, Emily Lam , Kathleen Lasky, Chelsie Lazaro, Caitlin McGuire, Kayla Resto, Kayla Resto, William Smith V, Kaylin Sorensen, Gerald Sorensen III, Yuxin Zhang.