This is a carousel. Use Next and Previous buttons to navigate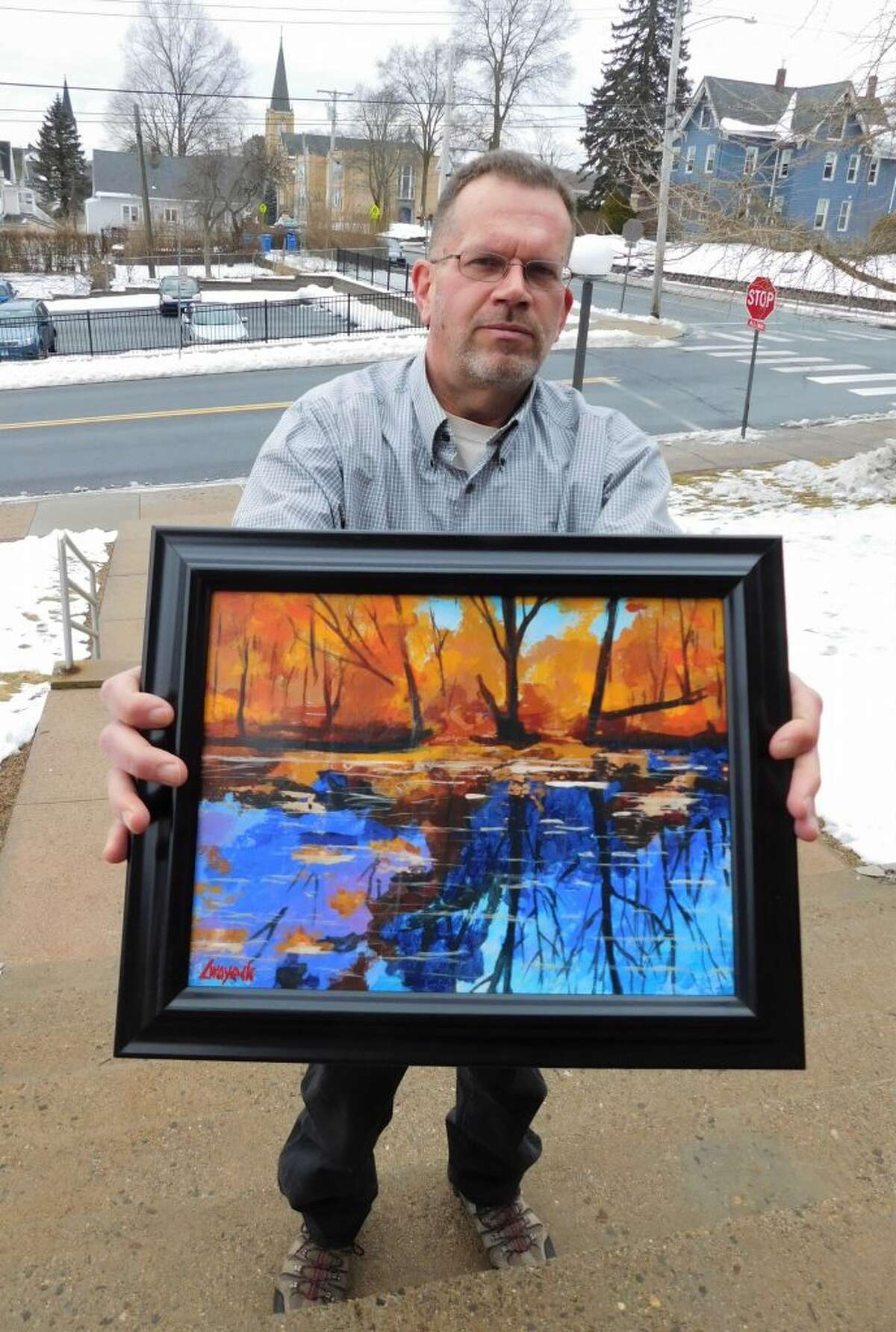 Len Grayeck was always drawing architectural house designs and caricatures while growing up. "I drew compulsively all the time," he said.
In 1989, when he experienced a rough year personally, he turned to art in a more serious way.
Grayeck began watching art instructor Bob Ross' painting lessons on public television and said to himself, "I can do that."
He purchased the necessary paint supplies and began to create landscape and abstract paintings in acrylic. "It got my mind off my problems," he said.
Thirty years later, Grayeck continues to paint almost every day. "It started as a hobby and then became an obsession," he said. "I spent most of my 30s painting every night."
The 51-year-old Shelton resident has become an established painter in the region. His work can be found in art shows at galleries, libraries and other venues, often winning awards. He has sold up to 200 paintings during his career.
The Mattatuck Museum in "Waterbury purchased a Grayeck painting for its permanent collection in early 2018. "Miscere Domino" depicts a scene under the Mixmaster, the elevated highway section where Interstate 84 and Route 8 meet in Waterbury.
He's received commissions to paint people, pets and landscapes, had his paintings featured in publications, and sold prints of his work through art websites.
Grayeck is essentially self-taught. He took some random art classes in school when younger.
He's a believer in Malcolm Gladwell's theory that it takes 10,000 hours of practice to become an expert at something. Grayeck, when it comes to painting, has certainly put in the required hours.
A commitment to doing something every day for at least 15 minutes is required to master it, whether crochet, writing poetry or creating art, he said.
"When people come up to me and say they want to paint, I tell them to get a sketch pad and pencil and draw a few times a day," he said. "If you can learn how to draw, you can paint."
Grayeck paints mostly portraits and landscapes, including of well-known rock stars, friends, Stratford beach scenes and the sky. A complicated, realistic painting can take him 100 hours to complete.
He also does abstract paintings, which usually take much less time to complete.
He keeps a large file of photo images — some of which he's taken and some from public sources — ready to use as subjects for his realistic paintings.
"Whatever percolates in my head, I'll start working on," Grayeck said.
Some of his paintings take years to complete. He may begin a painting, return to it months later, and not finish it until years afterward.