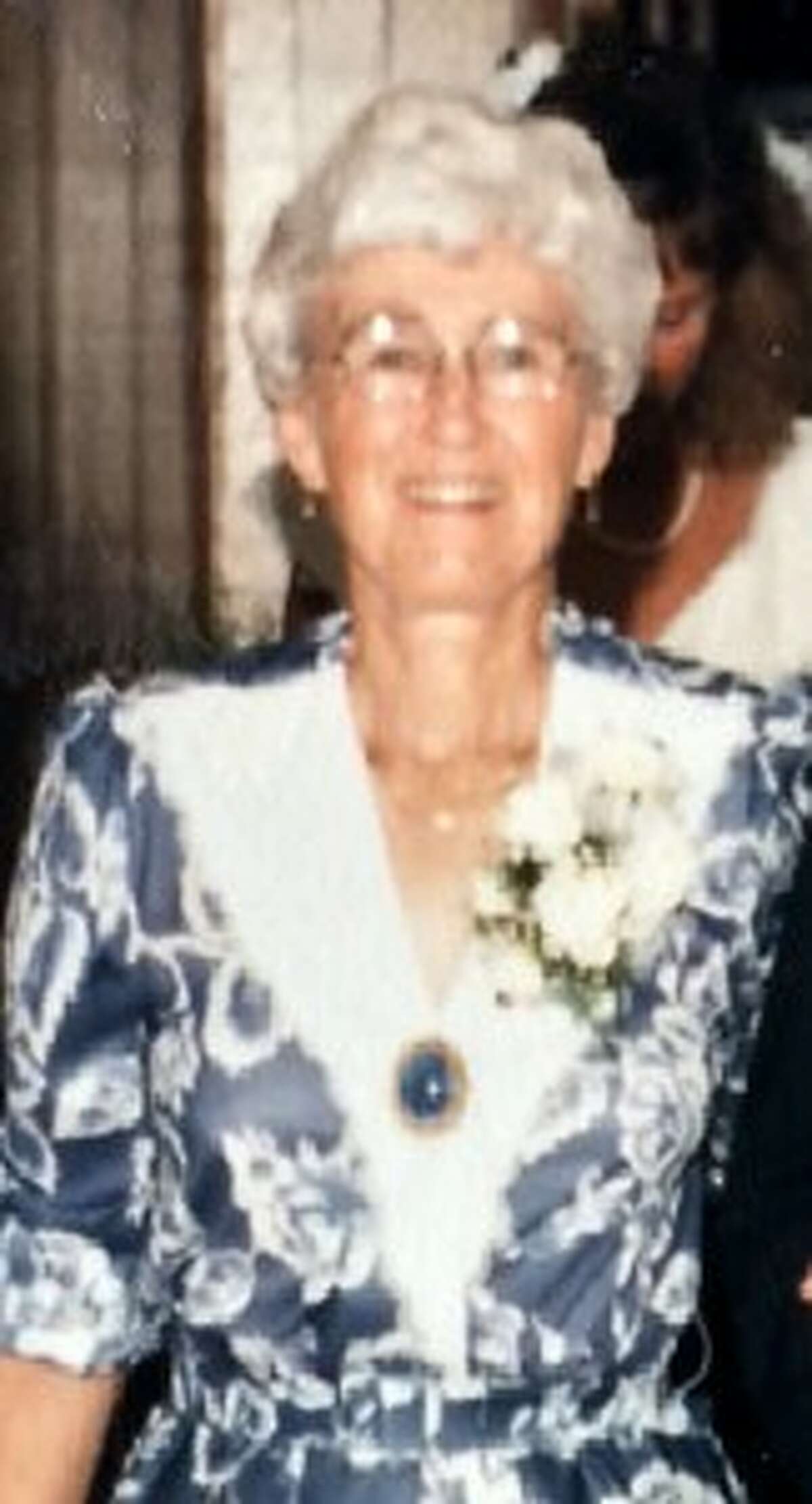 Carol J. Hamlin, 89, passed away Thursday, July 2, 2015 at her residence in Elim Park in Cheshire, CT. She was the wife of the late Walter C. Hamlin.
Carol was born April 28, 1926, in Derby, CT, daughter of the late Philip and Joan Jones.
Carol grew up on the Jones Family Farm in Shelton and was proud of her farm girl heritage. She graduated from Dean Academy in Franklin Mass, and Danbury State Teachers College (now WestConn). Carol spent her working career teaching kindergarten through first grade in several different schools in the Shelton school system, retiring in 1984.
Carol was married to Walter Hamlin in Hillsboro, NH in 1975; they lived in New Hampshire for years before moving to Colorado and then back to Elim Park in Cheshire, CT in 2002.
An avid outdoors enthusiast who enjoyed hiking, canoeing and cross country skiing. A professional quilter having established quilting classes at her prior home in Colorado and at Elim Park to the delight of all who knew her, her quilts being of exceptional quality are exhibited at Elim Park .
Carol is survived by her brother, Philip Jones of Shelton and sister, Barbara Foote of Ithaca New York. She is also survived by her children; Drew Glover of Monroe, Tim Glover and his wife Colleen of Monroe; Greg Glover and his wife Suzanne of Shelton and Joan Donofrio and her husband Ron of Trabuco Canyon California; stepsons, Ed Hamlin and his wife Judy of Manchester and Paul Hamlin and his wife Debby of Meriden; a stepdaughter, Patty and her husband Jeff Simpson of Aurora, CO; eight grandchildren; Candace, Kim, Christian, Sean, Brian, Amy, Kristy and Kelsey; three step grandchildren; John, Renee and Kathrin; and also several nieces & nephews.
She was predeceased by her brother, Newell Jones and her prior husband George Glover.
A memorial service for Carol will be held on August 2nd at 3PM at Nelson Hall at Elim Park, 150 Cook Hill Road, Cheshire, 06410. Burial will be held at the convenience of the family. There are no calling hours. The Alderson-Ford Funeral Home of Cheshire is assisting her family with the arrangements.
Donations in her name may be made to the Highland Baptist Cemetery Association: C/O Norman Glover 1385 Wood Ave. Bridgeport, CT. 06604. (A historical preservation association.)
To leave condolences for her family or to share a story of Carol, please visit www.fordfh.com.