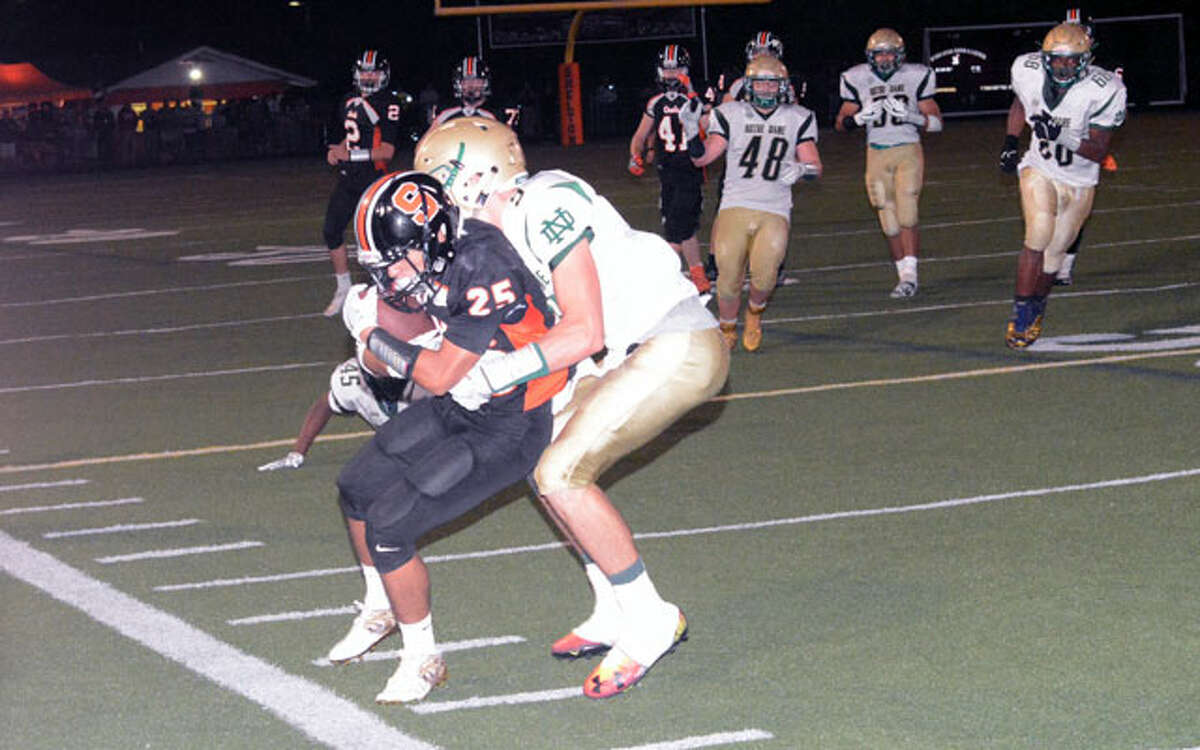 After seeing visiting Notre Dame-West Haven battle back with two scores to take the lead late in the third quarter of Friday night's game, Shelton High's football team got it back – for good – only 29 seconds later.
The Gaels prevailed 33-21 to improve to 2-0.
Just when it seemed as if everything was going wrong for Shelton things changed on one big play. The Green Knights took their first lead of the night with 32 seconds to play in the third and appeared poised to carry the advantage and momentum into the fourth as penalties backed the Gaels to their own 10-yard line. Quarterback David Wells escaped a would-be tackler, found some running room and rushed 90 yards for a 26-21 lead with just three seconds left in the quarter.
"I just made one guy miss and found a wide open hole," Wells said of the long TD run.
Shelton's two-point conversion failed but, after stopping the Green Knights, the Gaels converted a pair of crucial third-down conversions on a drive to make it a two-possession game midway through the fourth.
Wells connected with Paul Ferrigno along the right sideline on third down, and later hooked up with David D'Amore on third-and-9 at the NDWH 15 over the middle for a 12-yard gain. Two plays later, Wells rushed the ball in from a yard out with 5:49 to play.
The Gaels built a 20-7 halftime lead as Anthony Schiavo and Joe Zoppi caught TD passes, and Jonathan Sobotka scored on a draw play.
Notre Dame-West Haven's defense held throughout most of the third quarter and the offense cashed in to claim its first lead of the night before Wells broke free with the go-ahead (for good) score.
Following Shelton's final TD the Green Knights quickly drove deep into Gael territory but the drive stalled on a fourth-and-goal run. On the next play from scrimmage, Shelton's Ronnie Rich burst through the middle for a 48 yard rush to the NDWH 48, helping to chew some time off the clock.
"They came back on us. Our kids didn't blink – our kids just kept coming," Shelton coach Jeff Roy said. "That was a good confidence booster for us. We were able to face adversity and come back."
Roy thought the play of his offensive line and the defense played well throughout the game. Sobotka left the game with an ankle injury in the third quarter, and Jack Carry did a bulk of the rushing from that point on.
"It was a good team effort all around. We had a lot of kids who stepped up and played well," Roy said.