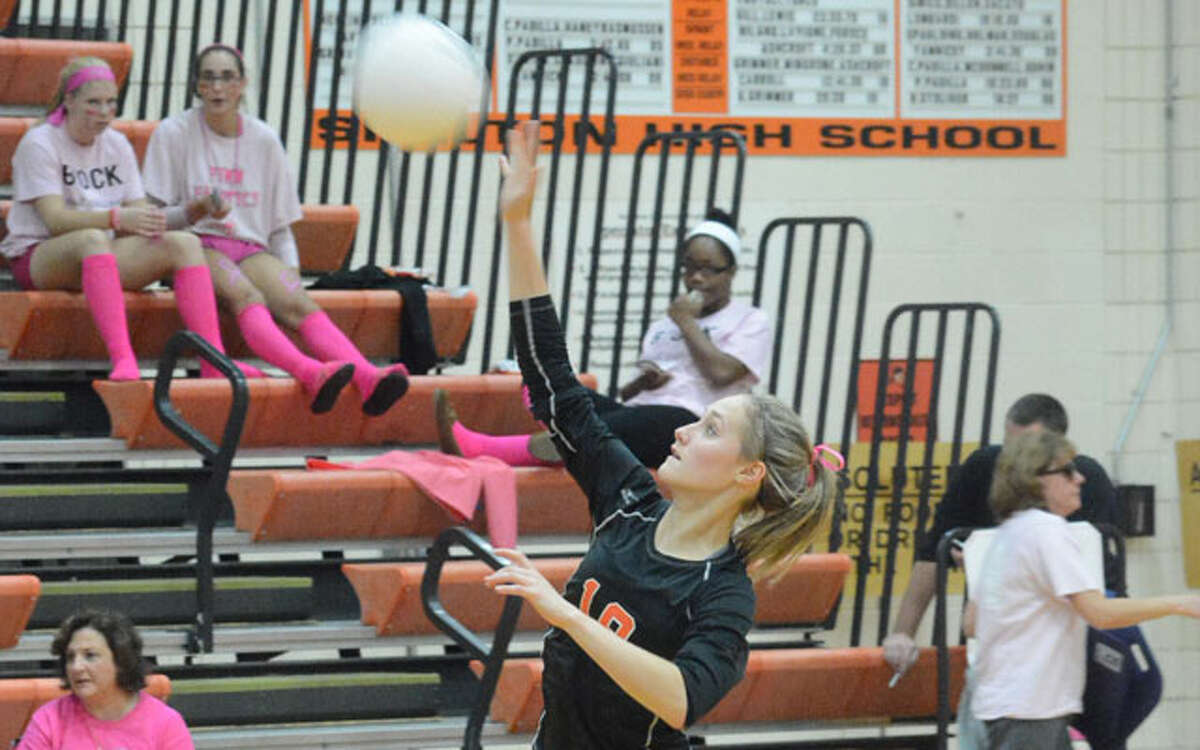 Shelton High School's girls volleyball team posted a 3-0 (25-19, 25-21, 25-20) victory over visiting Foran of Milford on Saturday afternoon.
The Gaelettes overcame an early deficit to win game one, scored the last four points to pull away and close out a close game two, and withstood a Foran comeback effort to capture game three.
In game two, the teams went back and forth with Foran tying the score at 19, 20, and 21 apiece before the rest of the points went Shelton's way. Captain Samantha Stevens had a kill and the other three points came on errant Foran hits.
Game three saw Shelton jump out to an early four-point lead. Foran fought back for a 9-8 lead before Shelton got the next three, capped by Jessica Orazietti's ace. After seeing the lead trimmed to 11-10, the Gaelettes ran off five consecutive points, highlighted by back-to-back Grace Tokarski aces.
Foran chipped away and got to within two points late in the third game. Stevens had two straight kills, including a cross-court blast for a 23-19 advantage. Captain Mackenzie Bures's kill made it 24-19, and Casey O'Connor answered Foran's point to extend the match as she closed it out with a kill.
"I was happy to see we did not let up. We kept pushing through," Shelton coach LeAnne Bianchine said. "They didn't give up and they didn't let up."
The Shelton coach said her hitters were on and the defense led by libero Orazietti, played well.
"We started communicating more," Bures said of the team's turnaround after a bit of a slow start.
Bures had 10 kills and 14 digs. Stevens racked up 8 kills and 12 digs. Tokarski had six aces, 20 assists, 10 digs and a block. Orazietti had nine digs.
This was Shelton's Dig Pink match in recognition of Breast Cancer Awareness Month. As part of the occasion, the Gaelettes honored Cathy Lynch, aunt of Bianchine, who is a breast cancer survivor – cancer free – after being diagnosed in August of this year.
"It was very nice. It was nice to surprise her," said Bianchine, whose team presented Lynch with a gift basket made possible by player parents, during a brief ceremony between the second and third games of the match.
"This team is like a family. As you can see they all stepped up for my aunt," said Bianchine, adding that team members made posters in her honor which were hung in the gymnasium for the match.
Bianchine added that friends and family were on hand to support Lynch and the team. Lynch has attended Shelton High girls and boys matches for 13 years, said Bianchine, who coaches both squads.
"It meant a lot to us that she was able to be here to witness it," Stevens said.