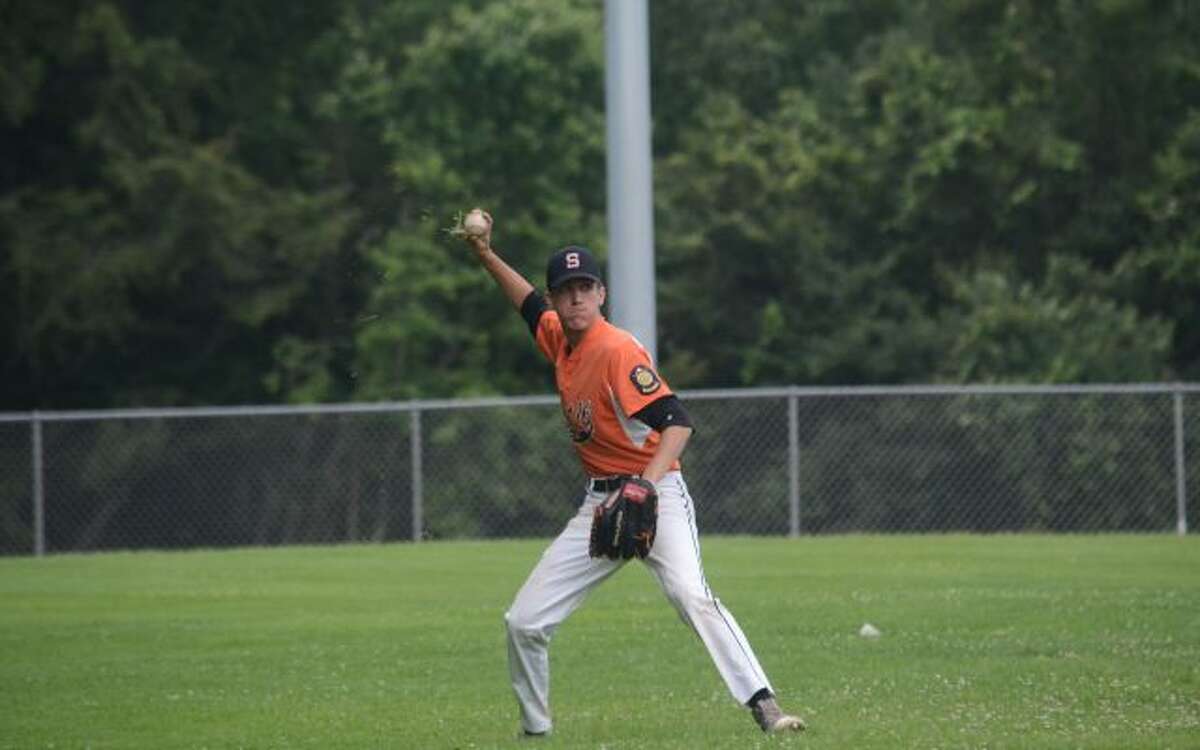 Shelton's American Legion baseball squad, in the midst of eight games in as many days, has remained competitive at the midpoint of the fast-moving summer wood bat league grind.
Shelton bounced back from a 1-0 loss to Bethel on June 26 with a 9-6 victory over Waterbury the next day, then avenged the setback to Bethel with a 7-2 triumph in the rematch on June 28. Shelton fell 6-1 to host Monroe, the second-place team in the Zone V standings, on June 29.
The final score against Monroe doesn't tell the whole story given Monroe capitalized on some Shelton errors to pad its lead.
Given the nature of the schedule, with teams playing almost every day and pitch-count limitations in effect, Shelton coach Tom Murphy and the other coaches have to be creative with their use of pitchers.
Murphy used three pitchers — Craig McNamara and David Wells, both making their first appearances of the summer on the mound, and Frank DeMarco — against Monroe. That was by design. Murphy wanted to keep some arms available for the weekend, with single games on Friday and Saturday, and a doubleheader on Sunday looming before a day off, followed by a stretch of three games in as many days beginning on July 4.
"We've thrown ten different kids so far," Murphy said after the Monroe game, adding that he'd likely start another infielder or outfielder for the first time this summer during the weekend.
"They're all excited when it's their turn. It's fun because all of the kids realize they're going to get a chance."
Murphy is happy with how the pitchers have done.
"We've been hitting the ball much better too," the coach added.
McNamara, Ryan Murphy, Carl Kopf and Wells have been key cogs in the batting order, said the coach, adding that Jafar Vohra, Will Ciccone and T.J. O'Sullivan have come up with key hits.
Vohra singled home Ryan Murphy, who had singled, in the seventh inning against Monroe.
In the 7-2 victory over Bethel, Kopf pitched extremely well and tossed a complete game, Murphy said.
Wells singled twice, drove in a run, walked and scored, Ryan Murphy singled twice and scored a run, Kopf singled, walked twice and scored, Vohra walked twice and scored, O'Sullivan had a two-run double, singled, walked and scored, DeMarco walked and scored, Justin Barbato had an RBI single, and McNamara doubled.
The offense had been carried by McNamara and Murphy in recent games.
"They've been rocking the ball the last week and a half and keeping us in the games," the coach said. "I'm pleased with where we are and our kids are into it."
That bodes well for Shelton meeting one of its primary goals at the start of the summer slate: Finish it. After forfeiting the end of last summer's season, Shelton aimed to find a way to complete this campaign.
The other big goal the team had was to qualify for the playoffs. Shelton is in third place in Zone V and very much in contention.
"We've been competitive," Tom Murphy said.