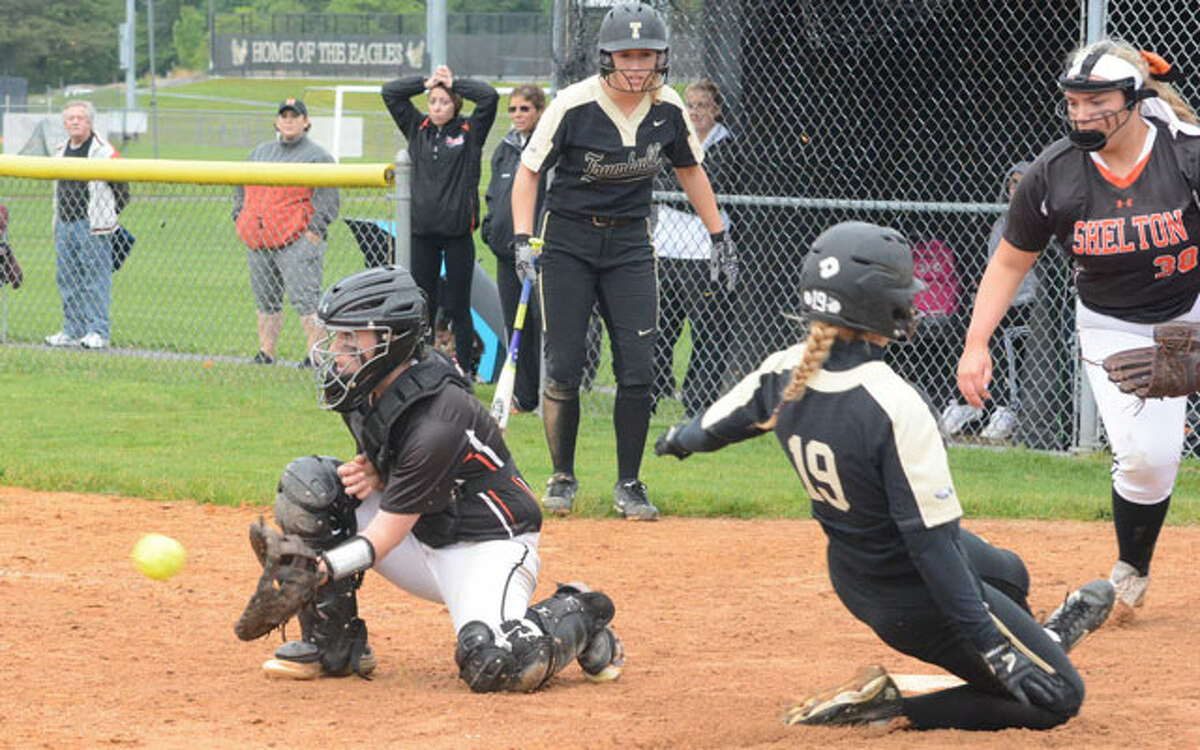 After a second-half resurgence during the season, which included a four-game winning streak, and a quick start in the Class LL state tournament's first round visit to Trumbull, Shelton High's softball season came to an end in a 12-5 setback to the Eagles, on Tuesday.
No. 9 Trumbull overcame an early 2-0 deficit to plate four runs in each the third, fifth and sixth innings on the way to eliminating No. 24 Shelton.
"They had some big bats. We couldn't really answer that until the last inning," said Shelton captain Mackenzie Bures, who along with fellow captain Lillian Rivera and senior Alexis Belco, will graduate and leave shoes to fill as the Gaelettes look to build off of the success they had this spring.
"Our hitting has not been a problem all year. We always come through with the hitting," said Shelton coach Jo Ann Desrochers, whose team was victimized as much by Trumbull's strong hitting as fielding miscues and wild pitches.
It rained a fair amount early on in the contest, which may have contributed to Shelton's undoing.
"It seemed like every time we got out in the field it started pouring harder," Desrochers said.
The Gaelettes worked around a trio of first inning Trumbull walks to keep the game scoreless and jumped out to a 2-0 lead in the third.
Margherita Carlucci singled, Kayla Resto doubled in a run, and a walk, hit batter and wild pitch led to another run.
Trumbull plated four runs in the bottom of the third to turn a two-run deficit into a two-run lead. A Shelton error aided the Eagles in that frame.
Shelton center fielder Rivera made a diving grab to save two runs to end the fourth inning but Trumbull tacked on in the fifth and sixth.
Five walks and four wild pitches over those two innings helped Trumbull build on the lead.
In the seventh, Emily Renkowsky doubled and Carluzzi singled, and a fielder's choice and pair of Trumbull errors helped Shelton score its final three runs.
Desrochers was pleased to see her team continue fighting, put the bat on the ball, and scratch a few runs in the team's final at bat.
The Shelton coach, all in all, was happy with her team's efforts this spring.
"It's amazing what this team can do when they put their minds and their hearts into it and I'm really looking forward to next year," Desrochers said.