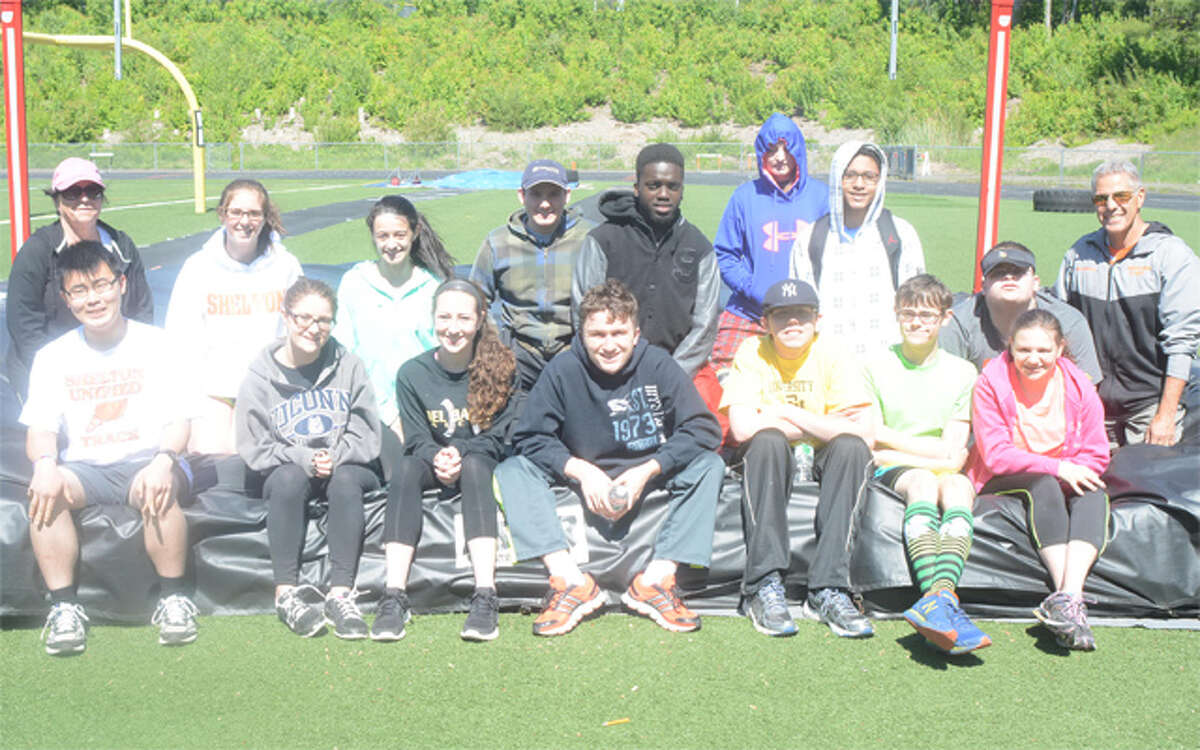 The Shelton High School Unified Sports participants practiced running, jumping, javelin throw, and other track and field events throughout the spring. They practiced every Saturday morning and participated in meets.
"They get to see different parts of the state," said Mike Gambardella, a coach of the second-year Shelton squad, adding that the team participated in meets outside of Shelton, including in Southington, Fairfield and West Haven.
"I think they have a lot of fun," Gambardella said.
"Kids are pulling for each other all the time, cheering for each other. There's a lot of teamwork and kids helping each other out. That's what it's all about."
Karen Devonshuk, a coach with the track and field team, believes there is tremendous camaraderie between the team members, including the partners who help the athletes hone their skills in the various events.
"They learn team work in relay races and also test their abilities in individual events," she said.
"It's really fun out here," said partner Jay Kollie, before working with athlete Jin Hong on the baton exchange during relay race practice.
Although the practices and meets are designed for special needs athletes, the partners clearly get just as much enjoyment from being a part of the squad.
"It's a lot of fun. Everybody's always so happy, everyone's smiling, and it's fun to work with them," said one of those partners, Gabby Rago.
"They're always working their hardest," said Jenna Sinko, also a partner, adding that she enjoys helping athletes compete at meets as they try to win events.
A bond is forged between teammates.
"I like talking to them, They're so much fun to be around," partner Natalie Tuccillo said.
Shelton Unified athletes and partners are as follows: Samantha Bekech, Ethan Buckley, Corey Cannone, Andrew Faenza, Sarah Falsetti, Jacob Hansen, Jin Hong, Shane Lacobelle, Demetrius Maggiore, Emily Manzo, Joshua Mondi, Kyle Roberts, Sara Bertola, Taylor Doolan, Natalie Ferrante, Jay Kollie, Dominick Melendez, Cameron Marro, Kaleigh Panek, Connor Prindle, Kyle Prindle, Gaby Rago, Jenna Sinko, Samantha Sobell, Natalie Tuccillo and Justin Widomski.